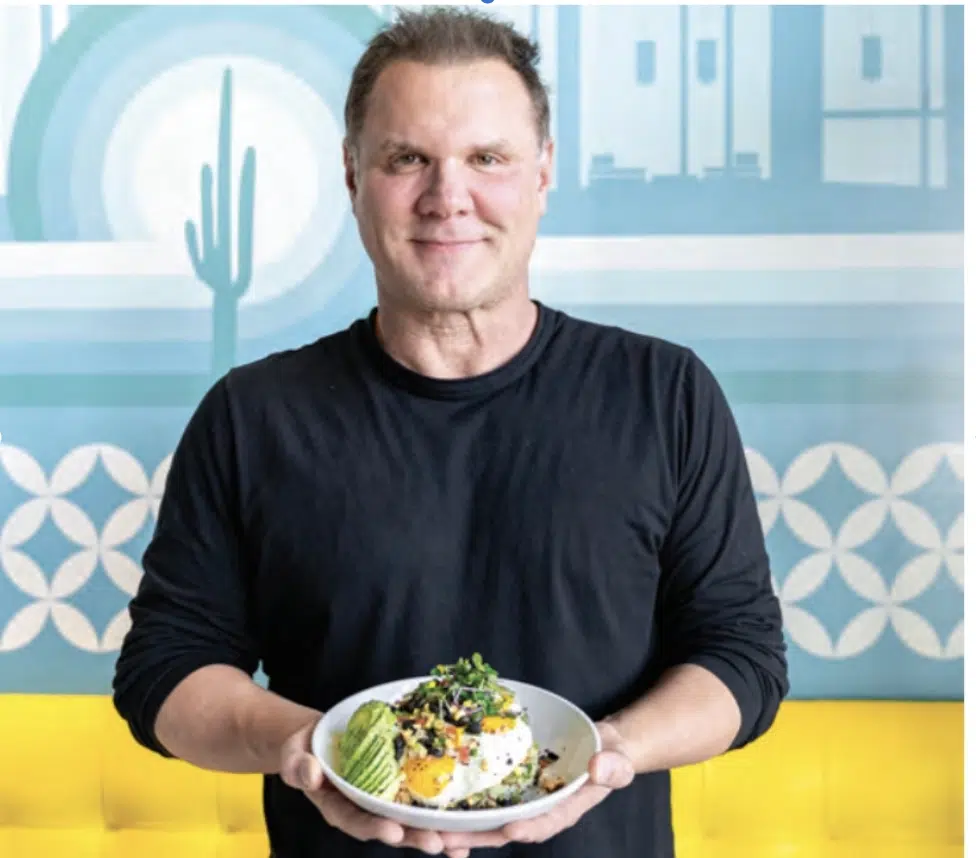 Over Easy, the breakfast-brunch-lunch restaurant with a modern twist is known for its from-scratch cooking and retro, bright, modern décor is introducing three NEW seasonal items to its menu this month! The new seasonal menu items are available at all 11 Valley locations for dine-in, takeout and delivery. (Alcohol excluded from takeout/delivery)
The seasonal dishes include:
Cinnamon Apple Corncakes –
Three fluffy cakes topped with cinnamon butter, agave nectar, apple chutney and vanilla granola – $14
JohnJay Burrito Bowl
Three eggs any style over cajun chicken, chorizo verde, avocado, white rice, quinoa, with black bean corn salsa, lime and cilantro – $17
Spicy Mango Margarita – Arcadia jalapeño in vodka, Exotico blanco tequila, Real mango purée, lime juice and an
Old Bay rim – $8
In addition, $1 from every
John.Jay Burrito Bowl sold will be donated to the #LOVEPUP
Foundation. www.lovepupfoun-dation.org.
Founded in 2008, Over Easy quickly became recognized as the best breakfast in Phoenix.
Over Easv's menu of made-from-scratch dishes crafted by Chef Aaron May, aesthetic décor and great customer service have led to features on the Food Network, in Bon Appétit Magazine as well as recognition as one of America's best breakfast and brunch restaurants by Travel + Leisure. With 11 locations across the Valley and a total of 12 across the nation, Over Easy continues to be a favorite for all things breakfast.
For more information, please visit www.eatatovereasy.com.
Comments are closed.